Hello, tempura.tv fan, I am Taishi writing this blog on tempura.tv.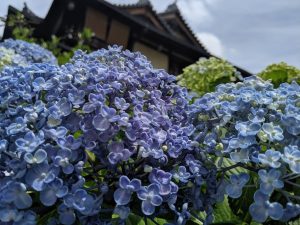 We do not like rainy season, do we? Especially Japanese rainy season is hot and humidity. However such a boring season, there is flower that is beautifully flourished!!
Do you know the name of flower? It is Hydrangea!! From now we call Rainy season but Hydrangea season!!
As you may know Hydrangeas are changed their color by the soil with power of hydrogen (pH). When the soil is acidly, the color would be blue.
On the other hand the soil is alkalinity, it would be red. So neutral would be purple. Therefore we can enjoy their variety of color at the same time.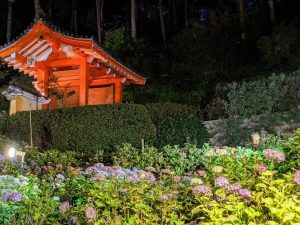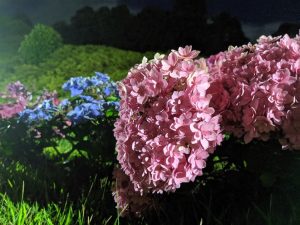 There are lots of famous Hydrangea spots in Kyoto, Mimurodo Temple(三室戸寺), Umemiya Shrine(梅宮神社), Fujimori Shrine(藤森神社) and so on. In this time I want to introduce Mimurodo Temple because they shows the face of day and night.
It is a great combination Hydrangea, light spot and temple. This light spot event will be ended by June 23rd. Do not miss the special collaboration.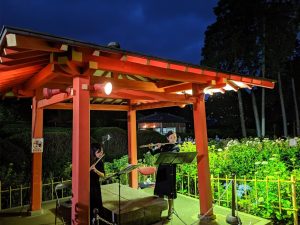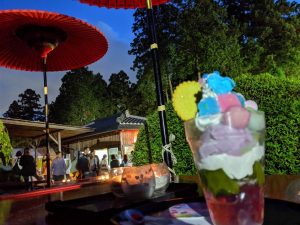 When I saw it, instrumentalists played music. Good music, flowers and night view, do we need anymore? Oops I forget a important thing, we can have limited parfait imaged like a Hydrangea season.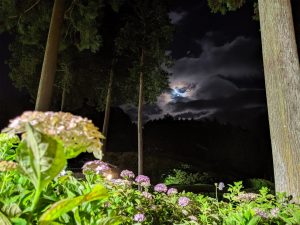 Is there any suggestion for rainy season? Yes if possible you can see fireflies. As you know fireflies can only survive around pure water. We could see them anywhere in the past. The worse the environment, the less we can see.
To protect them, Kyoto people clean their living river and release them for prosperity of descendants. Unfortunately there are pictures due to their lights are so tiny but it is very mystics.
The being well known fireflies spots are Shimogamo shrine(下鴨神社) and Seimei Shrine(晴明神社)which is near by clear river or pond.
If we are lucky, along Kamo river(鴨川) they are appearing. I have seen them once at Kiyamashi street(木屋町) where is Red light district.
How about exploring them around Kyoto city? We can refresh such a gloomy rainy season!!
If you want to know more, please leave some comments on this blog:)Let's enjoy and explore new Kyoto!! Catch up soon. Bye
-Address-
【Mimuroto Temple(三室戸寺)】
Shigatani-21 Todo, Uji, Kyoto 611-0013
Lighting up Hydrangea at night: June  8th – June 23rd
Opening hour: 19:00 – 21:00 (Close gate 20:30)
Entrance fee: 800 yen (Child 400)
Official Webpage: https://www.mimurotoji.com/
Referring to Google map.