Hello, tempura.tv fan, I am Taishi writing this blog on tempura.tv.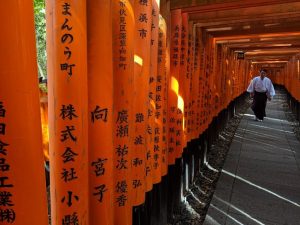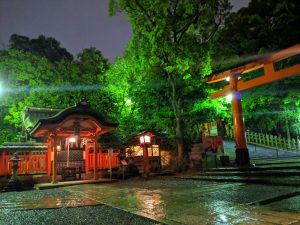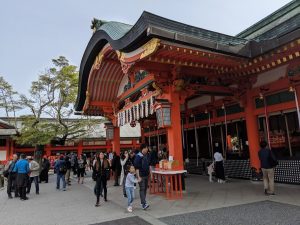 Fushimi Inari has three different faces, Fresh, Bustling and Mysterious. What do you call up when it comes to think about sightseeing in Kyoto?
Most tourists who will go to Kyoto make plan to go to Fushimi Inari Shrine. Because Fushimi Inari Shrine is one of the most famous sightseeing place and it is nominated No.1 place wanted to go by TripAvisor.
If you had been in Japan before, you may have already gone there.However do you know that Fushimi Inari Shrine has 3 different faces?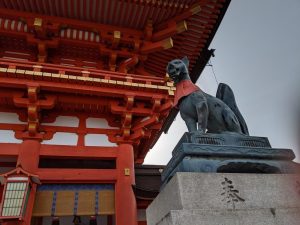 Before talking about differences, I explain what Fushimi Inari Shrine is. Fushimi Inari Shrine is also called "O Inari-san" which being the most familiar with Japanese people because there are said to be over thirty thousand throughout the country.
Then this Fushimi Inari Shrine is the head shrine with which all the others are affiliated. It was established in 711, Nara era and people have gathered here to pray for bounty harvest. Now that it is not only for bounty harvest but also business prosperity, the safety their home and family and the fulfillment of all kinds of wishes.
Speaking of Fushimi Inari Shrine, you can see Fox statues called " Kitsune" everywhere. In Kyoto, Fox is said to be a messenger from God, like Deer in Nara and Mouth in Osaka.
We used to put Fox mask at festival when we are child. A Fox mask could be good souvenir that you have exactly been in Kyoto. Also it is trend that girls put Fox masks with Kimono to take a picture for Instagram.You can buy it at some shops around Fushimi Inari Shrine.
Sorry, it could be long before main topic, because Fushimi Inari Shrine is the best spot for me!! I usually go there to feel mysterious mood.
All right, I am going to explain that Fushimi Inari Shrine has three different faces.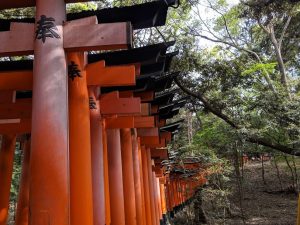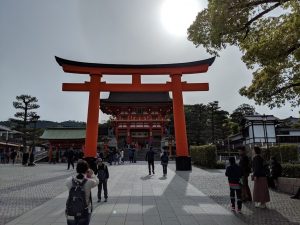 The First face is "Fresh" covered with nature at early morning. It may be surprised that Fushimi Inari Shrine is opening all days. (Of course shops are closed)
So if you feel nature and get refreshing, I highly recommend that you go to there around 8 am. Around that time, some neighbor is there but rarely tourist.
Fushimi Inari Shrine itself is part of the mountain so how about hiking there? It takes at most two hours. (there are some short cut ways) Also hiking way, there are Red Torii Gates:)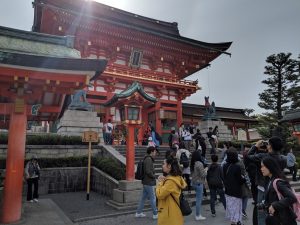 The second face is "Bustling" feeling like you are in festival during day. As you know, Fushimi Inari Shrine is selected the place where is the most popular sightseeing place.
Therefore it is so crowded especially weekend. When you go to peak season from spring to autumn, you can eat a lot at food track. From now, crushed Ice called "Kakigori" help us from hot temperature:)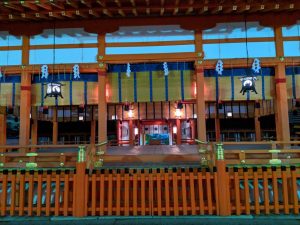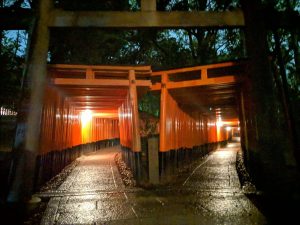 The third face is "Mysterious" at night. After sunset, Mostly is going back to downtown. However if you really want to feel Japanese mysterious atmosphere, why not explore at night!!
My recommendation is over 9 pm. (Notice: Do not make a big noise because their neighbor is living around there.) Every shops are closed but lightning up to Fushimi Inari shrine all night.
How do you feeling from a picture. It is extremely mysterious, isn't it? It is said Kyoto has a mysterious power that is well know as "Yokai" like UMA and ghosts. Especially From 2 am to 2:30 am called "Ushi Mitsu Doki" is the strongest for them.
If you separately head to the two torii gates, basically it is connected the end, you have never met together forever because the one of the gate is connected the parallel world. It is just a superstition but you may be trust when you see and feel this atmosphere.
But I think that night is absolutely beautiful because night is included variety of dark points, isn't it? Of course realistically you should go back to your hotel before last train!! The last train from Fushimi Inari to Gion Shijyo departs at 12:34 am.
If you want to know more, please leave some comments on this blog:)
Let's enjoy and explore new Kyoto!! 
Catch up soon. Bye.
-Address-
【Fushimi Inari Shrine】
68 Fukakusa Yabunouchicho, Fushimi Ward, Kyoto, 612-0882
Official Webpage: http://inari.jp/en/
Referring to Google map.