Hello, tempura.tv fan,
I am Taishi writing this blog on tempura.tv.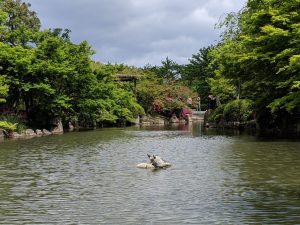 Now Toji Temple(東寺) has hot spots to sightseeing. Today I want to show you guys 3 hottest spots.
The largest Five-Storied Pagoda in Japan
Buddha meets the latest technology
Graceful paintings made by ceramic.
Firstly, what is Toji Temple? In 794,when the capital of Japan was transferred to Kyoto from Nara, two huge guardian temples were built on the east and the west sides of the main entrance of the Imperial City of Heiankyo.
Unfortunately, the temple on the west no longer exists, but Toji Temple has survived to the present day. It has been the headquarters of the Shingon sect of Japanese Buddhism.
Toji Temple is also well known as 1st in Kyoto, 4th in Japan having a number of the statue of Buddha which is elected by a national treasure. By the way top 3 is in Nara. It is good choice to go to Nara when you have been traveling Kyoto.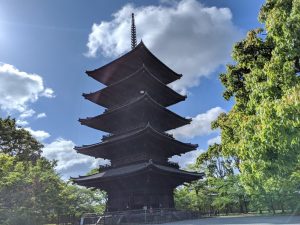 So let's show ①The largest Five-Storied Pagoda in Japan. Go through the entrance, you can see a large beautiful Japanese garden and the Five-Storied Pagoda, Kondo(Main Hall) and Kodo(Lecture Hall) surrounding the garden.
Do you want to see them at the same time? Do not rush:)
Firstly Let's go to the Five-Storied Pagoda. How is it? It is too big to go into single picture. The largest Pagoda was established by Kukai(空海) called Kobo-Taishi from 826. In fact it burned down 4 times, sometimes after being struck by lightning. But it revived each time for Kyoto citizens and it shows a beautiful status as a national treasure.
Unfortunately, we cannot take pictures but can see Buddha statues on the ground level of the Pagoda through small windows.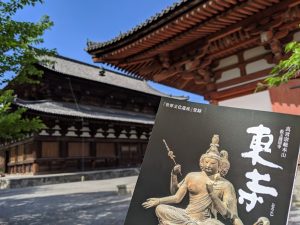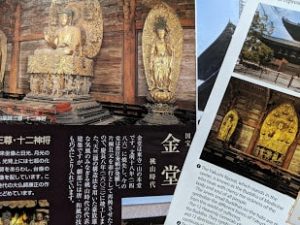 Then let's move to Kondo(Main Hall) and Kodo(Lecture Hall). Kondo has also been designed as a national treasure. The positioning of the Buddhist statues inside the Kondo is a physical representation of the cosmology of Buddhism.
The Yakushi Nyorai(薬師如来), which stands in the center, is the Buddha of Medicine who heals with mercy the sickness of the body and soul of all people. And the 12 Heavenly Generals placed under the seat of Yakushi Nyorai are protectors of the Buddha.
They symbolized the 12 hours of day and night, 12months of the year and 12 directions of Chinese zodiac. This reflects the belief that they are continuously protecting all people. On the left hand the statue is the Gakko Bosatus(月光菩薩) represents Moon and right hand one is the Nikko Bosatsu(日光菩薩) represents Sun.
They put off enlightenment in order to continue to practice with all people.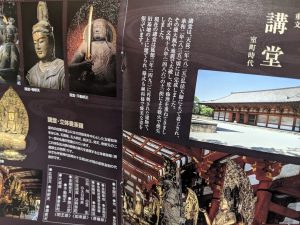 Next hall is Kodo. There are the 21 statues in Kondo and it placed according to a mandala that is center to Shingon Buddhism(真言宗). The mandala represents the world of enlightenment, which is reflected in the position of the Dainichi Nyorai(大日如来) and attendant figures.
Every 21 statues are very impressive but the center of the statue on the left hand, Fudo Myoo may be the best. Fudo Myoo is classed among the wisdom kings and is preeminent among the five wisdom kings of the womb realm. He shows angry face in order to calm people's bad things and worldly desires called Bonno(煩悩).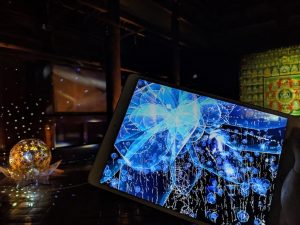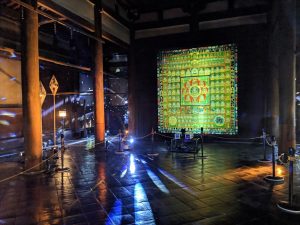 Do you enjoy Toji Temple? There are several spots that we should see!! Let's move on ②Buddha meets the latest technology. What is your impression about Kyoto? Old? Historical and Traditional place? It is correct but not enough. Of course we respect their history and traditional.
On the other hand, Kyoto tries a new thing!! Certainly their traditional architectures are treated as history. However at that time the architectures were built, they are absolutely the newest ones. Therefore it is natural that Kyoto collaborates with new technology.
Today I want to introduce you to "Buddha meets AR technology". The place is Kanjyoin(灌頂院). We can experience a fantastic space with the Light, Visual and AR technology. The theme is "Light of KUKAI". Just We pick up our smartphone or tablet, the atmosphere is changed to graceful space. Music is also nice. We can feel as if our body melts in the space.
Let's take pictures. It could be an instagramable spot:)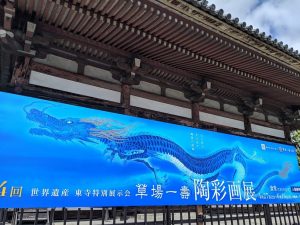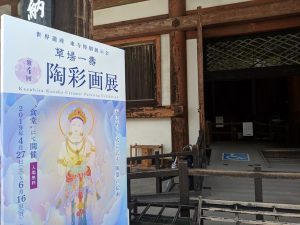 There is still left!! My purpose to go to Toji Temple is to see the Five-Storied Pagoda and AR event but they still have an awesome event. It is Exhibition of Tosaiga(Painting of Ceramic).
Tosaiga is a unique kind of ceramic painting created with original techniques developed and perfected from the traditional methods used to make Arita ware porcelain over the last 400 years. To create Tosaiga, a picture is painted with glaze on a sheet of white ceramic and fired in a kiln. A different color is then painted on top of the first and fired again.
This process is repeated more than 10 times in order to complete a picture. Therefore the picture is seen as three-dimensional. I may have never watched such a beautiful picture. This is limited event!! Do not miss it!! When we walk around Kyoto, we meet a kind of serendipity:)
If you want to know more, please leave some comments on this blog:)
Let's enjoy and explore new Kyoto!!
Catch up soon. Bye
-Address-
【Toji Temple】
1 Kujocho, Minami-ku, Kyoto 601-8473
Official Webpage: http://www.toji.or.jp/en/index.html
Admission fee: 800 yen
Opening Hour:
Mar 20th – Sep 19th 8:30 am – 5 pm
Sep 20th – Mar 19th 8:30 am to 4 pm
Referring to Google map.
<The Light of Kukai>
Limited Event: Apr 1st – May 25th 9 am to 4:30 pm
Admission fee: 500 yen (If you have entrance ticket for Toji Temple, it costs 400 yen.)
<Exhibition of Tosaiga>
Limited Event: Apr 27th – Jun 16th 8:30 am to 4 pm
Admission fee: free
Written by Taishi