Hello, tempura.tv fan, I am Taishi writing this blog on tempura.tv.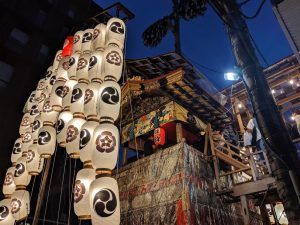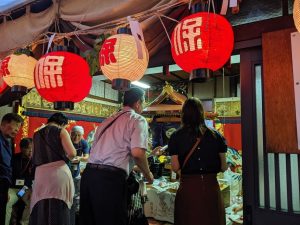 Gion Festival is one of the most famous festival in Japan. As the name suggests, Gion festival is based on Yasaka shrine and grandly holding around downtown, Kyoto.
Generally we think Gion festival is composed of Yoiyama(宵山), night events and Yamaboko parade(山鉾巡行). However Gion festival has been hold during July.
When we walk around Shijo street, Matsuribayashi(祭囃子), the distinctive sound "Konchiki Chin", has been practiced by the instrumentals.For Kyoto local, the sounds remind us summer of Kyoto is coming.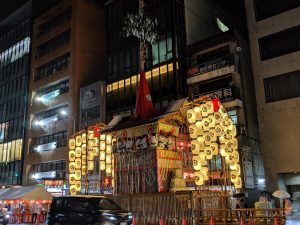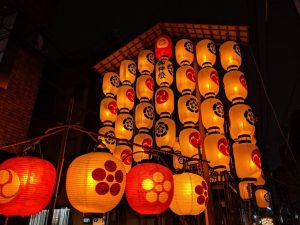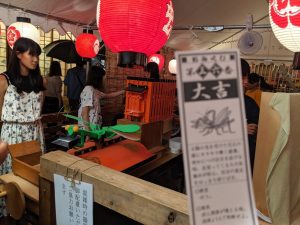 Today is pre-Yoiyama, so it is gradually energetic. The most energetic is tomorrow night, Yoiyama. We can see 34 numbers of Yamaboko floats which are all different features.
Among them, the symbol is Mantis and Torii gate, Sakura and so on. They are unique features each float and have a proud of their area.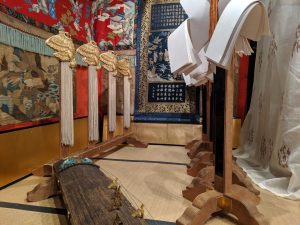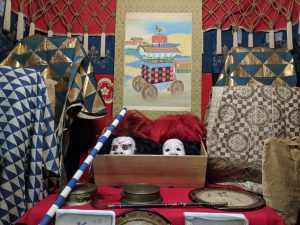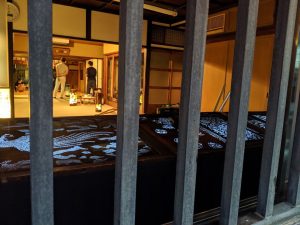 Gion festival is rooted from 8 century and its profit is plague and flourished. Now that this festival is regarded for local one.
How about looking for your favorite float?  Almost Yamaboko is based on Shijyo Karasuma area. During pre-Yoiyama, Yoiyama and Yamaboko parade, Shojyo, Karasuma and Kawaramachi street will be a car free zone then we can walk the middle of street which we cannot ordinary walk.
And at Shijyo Street, tremendous lanthanums are appearing and assembled liken a big mountain. Therefore it shows unrealistic world where we were in fantasy.
At Karasuma Street, there are lots of food and stuff trucks that sell Takoyaki, shaved ice and mask so on. This festival l is encouraged by their energy. We can enjoy with family and couple and group of goys and girls!! There are many Kimono rental clothes shops at Kyoto. It can be good to integrate with the mood of Gion festival.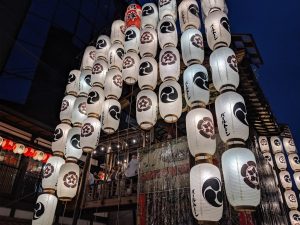 Finally Yamaboko parade is the main event at Gion festival. It starts from Shijyo and Karasuma inter section at 9am. And they go through Kawaramachi street then they reach Sanjyo Karasuma interaction.
If you want to them at good position, you should get up early and take a seat. This parade continuously shows up a variety of floats and we will not bored with it.
How about joining Gion festival that it is the day Kyoto is the most energized day?
If you want to know more, please leave some comments on this blog:)Let's enjoy and explore new Kyoto!!
Catch up soon. Bye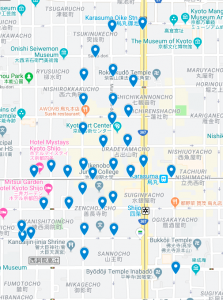 Referring to Google Map to find varieties of Gion floats.